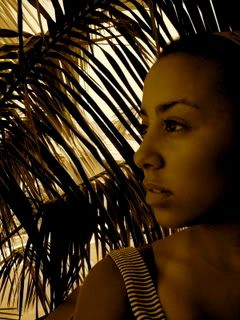 So I had a sit-down, well I mean a series of IMs and messages from ATL to AZ, with Lauren about fashion, and I wanted to share it with all of you.

She's the writer of the blog I'm On The List.
Go read it.

I know what you're saying. "Why would I want to hear this girl rant about Project Runway and ANTM."

Well, if you're like me, and plan on having women in the future, and not "girls" then you're going to need to know just a little big about womens fashion. In short, your wife bragging to her friends about getting some Christian Louboutins while all of her friends got another set of pots and pans will get you much needed brownie points, especially when you want to have some guys over to watch the game and drink, errr, lemonade.

Well, without further delay, Lauren.

Patrick: Describe your personal style.

Lauren: Coming to Spelman College, I wore a lot of hoodies and dunks, but recently I've left the dunks behind and opt for a more sophisticated look with funky/urban jewelery to balance it out. I feel I will be taken more seriously and looked upon highly when I do.

P: What influences your personal style?

L: I dress for who I want to be and what I see most of the upperclassmen wearing around campus. sometimes I open Teen Vogue (I have a library full of them in my dorm room) and make outfits out of what I see.

P: Do you feel compelled to have a 'different' style than most people?

L: Not at all. I feel that a lot of people who think they're dressing "different" from the crowd, often become the majority. Most of those looks end up getting played out. I read a book by Tim Gunn in which he discusses how you have to take a look and make it your own (sorry I had to bold that - Patrick). For example, the little black dress has been around forever... find some jewelery no one has and you instantaneously make it something "different."

P: What process do you go through when you design something? How do you take an image in your head and make it real?

L: I often take something simple and add to it as I go. I'm never in a hurry to finish something. when I come up with a brilliant idea, I may add it to something I had been working on 6 months before that.

P: If you had to pick one item of clothing that you had to wear everyday what would it be?

L: Jean. It is one of the only items in existence that can be dressed up or dressed down. One of the most recent episodes of Project Runway was about taking jeans and making a new outfit out of them. My favorite was a dress made by Sweet Pea. She took different color jeans and made a dress that could be worn to class or to a party.

P: What's your biggest fashion pet peeve?

L: People THINKING their looks are unique, but you can find 15 people in the next five minutes wearing the same thing.

The thing I love most about what Lauren is saying is that she does what she wants regardless. I don't think there's anything wrong with wearing what everyone else is wearing as long as you like it and feel comfortable. That said, don't jack Lauren's personal style;

get your own.

peace.